7 INCREDIBLE WAYS TO MAKE AN EXTRA $600 FAST!
This post may contain affiliate and/or referral links to products or services. Source - https://lifeandabudget.com/make-extra-600-dollars/
Make extra cash —  who couldn't use a little extra money each month? I know an extra $600 would go a long way towards helping pay off student loans, having a girl's night out, a nice weekend getaway with the hubby, and more.
Luckily, there are so many ways to make an extra income these days. The best part about it is that most of it can be done from the convenience of your own home. An extra $600 could help you get out of debt quicker, invest in business opportunities, save for retirement, and plenty of other countless ideas.
In this article, I've compiled a list of six different things you could do to bring in an extra $600. If you did all of them, you probably could make a whole lot more than $600 too. For example, I make way more than $600 alone with blogging.
So, let's get right into these. Here are 7 ways you can make an extra $600 this month.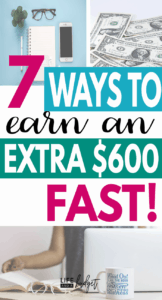 How to Make Extra Cash: 7 Ways to Make an Extra $600 This Month
1. Take surveys and make extra money online.
While you're binge-watching your favorite show on Netflix, do a few money making activities. The payout is low, but just think about it – you're earning nothing by watching television or waiting at the doctor's office. Might as well put that time to good use to earn a few extra dollars because money is money!
If you do all of these, you will be on your way to an additional $600. A few good ones are:
Ebates

 

– When shopping use Ebates. It is an app and website with thousands of stores. You visit the site or app, select the store you want to visit and a tracking ticket is opened. Shop as you normally would and earn cash back. You can also earn $5 per referral for sharing with friends.  Sign up for Ebates here

 

and get a free $10 gift card with your first $25 purchase.
Ibotta

 

– Use Ibotta when grocery shopping. Ibotta is an app you download on your phone. When you go grocery shopping, check the app for your store. Select any products in the app that you may be purchasing and earn a rebate. You can also earn $5 for referring friends too.

 

Sign up for Ibotta here.

 

You'll receive a $10 welcome bonus when you redeem your first cashback offer.
Do some or all of these to maximize your income potential. Also, if you sign up for surveys, create a separate email address. There are plenty of surveys available and you don't want to become overwhelmed with a flood to your main inbox.
Related Reading:
The Top 13 Ways to Get FREE gift cards!
2. Sell stuff you don't need.
I always tease my mom that I should come to her house one weekend and host a garage sale. I'm pretty darn certain that I could easily make $800 or more dollars by selling her stuff. When she opens her living room closet, I'm amazed at the amount of stuff she has piled in there (and I'm sure she doesn't use it).
She's not alone though. All of us probably have a few things lying around the house that we don't use anymore. Start with one room and do a quick run through. If you have more than 5 items you don't use, that's 5 things you could sale for cold-hard cash. To get an idea of things you could sell, check out this post – 11 Extra Things to Sell to Make Extra Money.
3. Sign up and become a Lyft Driver.
Becoming a Lyft driver is a great way to bring in a lot of additional income. You are in complete control with this side-hustle, as you can control your own hours.  Take shifts on breaks throughout the day or dedicate an entire weekend to it. Sign up for Lyft and learn how you can qualify for a $300 bonus.
4. Start a blog to make extra money from home.
Yep, I had to throw this one in here because blogging is my most lucrative side hustle to date. Just last month, I made over $1,500 blogging while at the same time last year, LAAB was earning zilch.
You won't make money immediately, but with a little time and patience, you can build an income-generating blog. Once you stop telling yourself that you can't earn money blogging and start doing the work – you'd be surprised at what you accomplish!
Here are the main ways I make money blogging:
Ads – My ads are managed by Media Vine.
Sponsored Posts – I don't do a lot of these, but I do occasionally.
Affiliate Links – My affiliate income grows month to month

 

thanks to this course.
Some easy ways to score sponsored posts are through networking with other bloggers. This is the way I've scored ALL of my sponsored posts. Also, you can sign up with companies like Izea, Cooperatize, or Linquia.
If you're going to blog for money, I highly recommend you treat it like a business from the start. This requires a small upfront investment, but I promise you, it's possible to start a blog on a budget. If you don't have the investment money up front, do some of the other activities listed here to help you save the money.
Treating your blog seriously means starting your own self-hosted blog. I recommend Bluehost because that's the hosting provider that I use. I've heard good and bad things about them all. If you're starting out, Bluehost is one of the more affordable hosts.
Here's my tutorial to walk you through step by step on How to Start a Blog on a Budget.
5. Create an Ebook and sell it on SendOwl.
Creating an ebook is now easier than ever. All you need to do is create it using a word or google doc. Save your finished product as a pdf and you're good to go.
You can hire someone on Fiverr or Upwork to design a cover or you can do it yourself using Canva. I can easily whip up a cover in Illustrator or Photoshop, so I use those.
If there is a topic you know a lot about, start writing your ebook. It doesn't have to be as long as a book either. For example, if you have the magic trick for getting an almost two-year-old to go potty anywhere other than the floor, I'm your customer!
So, stop telling yourself that you don't know anything and aren't capable of selling a product. Write your book about pottying (seriously, I need you) and start selling it on SendOwl. It's that easy. Plus, if you already have a blog, you might already have a market for the knowledge you're selling!
6. Proofread Documents.
If you're proficient with grammar, you could be a freelance proofreader. In this free webinar, you will learn everything you need to know to become a successful proofreader. Plus you'll learn where you can find clients!
There are many different businesses that need proofreading. You could even proofread for court documenting purposes. I've interviewed a few proofreaders (article coming soon) and the average rate starting out is $17.00 per hour.
To learn more about how to become a proofreader, check out this free 7-day course created by Caitlyn of Proofread Anywhere.
7. Become a Virtual Assistant.
Are you a type-A personality? Good with keeping your email at zero, staying organized, and all that good stuff? Well, you could provide virtual assistant services online.
That's right. You don't have to go to an office. You can do this right from the comfort of your own couch. Virtual Assistants make anywhere from $15 and up per hour. I know some from a few freelancer groups that charge $30 and up.
Common VA tasks are making business-related calls, scheduling appointments, email management, creating images for blog posts, general proofreading, scheduling social media, etc.
To learn more about becoming a virtual assistant, check out this free course on becoming a virtual assistant.
Wrapping
 

Things

 

Up

 There are so many ways to make extra cash and this list just scratch the surface. If you truly need (or want) to earn extra money, choose something that feels right to you. Don't do anything that you're going to dread doing.

If any of these ideas sound right to you, I recommend you get started today!  The quicker you start, the sooner you'll have the funds to help you get rid of your debt, finance your new home or a couple of vacations.

Happy Hustling!

 

How do you make extra cash each month? Chime in and inspire us all.